Preview image is for demonstration purposes only.
Position and size of imprint will vary.
Due to the limited space available, the position and size of your imprint will be chosen by one of our expert craftsmen.
Personalized items are not eligible for return.
Other important details about personalization:
Personalization is permanent. Your imprint will be covered in resin and cannot be removed without destroying the product.

All imprints are printed in metallic colors.
Please check your entry carefully. We are not responsible for your errors.
Personalization adds 3-4 business days to production time.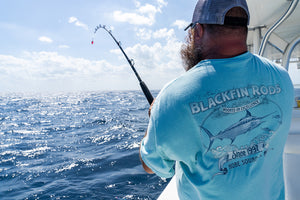 Need help finding the Perfect Fishing Rod?
Take our quiz to find the perfect Blackfin rod for you!
Made in the USA
Blackfin Rods are designed and made in Stuart, Florida.
Warranty
Blackfin Rods offer a limited one year warranty.
Contact Us
772-287-4723 info@blackfinrods.com